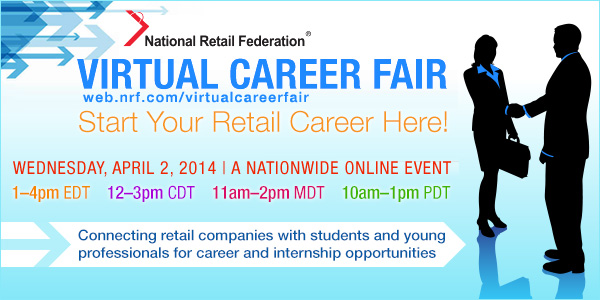 Are you an employer? Register here
.
About this event
Start Your Retail Career Here!
Connect Live and 1-on-1 with Retailers Hiring Now
Are you a student or young professional searching for an entry level position for your retail career? Do you want to know more about training programs offered by some of the country's biggest retailers? Are you looking for an internship?
Sign up for NRF's Virtual Career Fair to be connected directly, one-on-one and live, with top retail companies hiring for entry-level positions and offering internships and training programs.
You don't have to travel far to meet with employers from some of the biggest names in retail. NRF's Virtual Career Fair gives you the convenience of connecting live with dozens of employers, all from your laptop, wherever you are. Imagine having 20 or more first round interviews, all within 3 hours!
By registering, you will:
Interact live and one-on-one with retail companies through online chat where you can share your resume and experience and schedule second round interviews.
Discover more about the career opportunities retail offers.
Build your network by continuing your conversations with recruiters after the event ends.
How the NRF Virtual Career Fair works
The Virtual Career Fair connects you in real time with employers seeking to recruit top talent.
Log in to see retail companies that want to hire students and young professionals, and view information about each retail company and specific opportunities they have available, whether that's an entry level role, a training program or an internship.
Choose employers to interact with and then engage in a one-on-one chat directly with a recruiter from those companies. You can share your background, experience, resume, and ask questions.
Following each chat interview, go back to the Event Lobby and select additional recruiters to chat with from other participating companies!
Who should attend the event?
Students looking to start their retail career
Young professionals seeking new career opportunities in the retail industry
Students and young professionals who want to know more about the opportunities the retail industry offers
Learn more about this event